Description
The unusual and creative designs of Novelty Architecture are immediately interesting to middle school students. This lesson is perfect for an introduction to engineering, design, CAD, careers, advertising/marketing or history.
After a class discussion about the examples in the PowerPoint (and/or the additional examples in the resources section), students design their own functional building that meets the criteria for novelty architecture. They explore some of the potential problems in designing a building of this type and have the opportunity to utilize their creative skills as they find a unique way to create a building that looks like the company's product or service.
Included with this Lesson
• Teacher Resources and Lesson Overview
• PowerPoint of examples of Novelty Architecture
• Project Expectations for Novelty Architecture Design (includes rubric)
My 7th and 8th graders love this project each year and I hope yours will too!
Total Pages:  12
Teaching Duration:  3 days
See a preview of this product: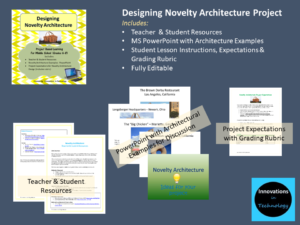 **************************************************************************
Connect with us for free technology tips, resources and curriculum:
Follow our blog
Follow us on Facebook