Description
Give middle school students a chance to learn more about careers and business as they work with a team to create their own teen business!
This unit focuses on students exploring many of the aspects of creating their own business and introduces some of the day-to-day requirements of that business. Students choose a business with their team, prepare a business plan, advertising materials and a budget and finally reflect on their learning utilizing a variety of MS Office products or Google Products, and a choice of a variety of free Web 2.0 tools such as Audacity, Paint, Canva, Adobe Express and others specified in each section of the lesson. Students can choose from available software options, or the teacher can specify which software they should use for each project.
Teacher & Student Resources
Overview of the Unit for Teachers & Students
Project Planning and Grading Sheet – Teacher
Project Planning Sheet – Students
Team Sign Up Sheet
Student Expectations and Grading Rubrics for:

Business Plan
Logo
Business card/letterhead
Tri-fold Brochure
Budget
Sales Presentation
Advertising (print and audio/video)
Reflection Essay

Sample Budget project (MS Excel)
Quick Start Guide – Audacity
Quick Start Guide – Canva
I've used this with 7th and 8th graders and they love having a chance to think about turning one of their passions into an actual money-making business.
Total Pages: 34
Teaching Duration:  1 Month
See a preview of this product: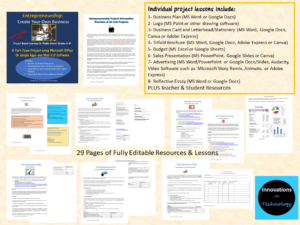 **************************************************************************
Connect with us for free technology tips, resources and curriculum: