Description
Genius Hour, Passion Projects and 20% Time Projects have gained in popularity over the past several years as students seek relevance in their work, an authentic audience, and more control of their own learning. These lessons and resources will get you started with this project in your classroom.
In these projects, students are given time to work on a project that is of interest to them to further their learning. They brainstorm and research to find their topic, refine a guiding question, and then create a proposal for teacher approval before beginning work on the project. The final project involves a presentation to the class (or to a group from the community) about their project and a demonstration of the product they created.
The unit was developed for Middle School (Grades 6-8) but would be appropriate for upper elementary or high school as well. Lower elementary students could also do this project with modifications.
Included in this unit are the following:
• Unit Overview and Teacher Resources
• Student Expectations for the Project (editable)
• Project Proposal Assignment – Instructions, Expectations and Grading (editable)
• Student Proposal Worksheet – Print and Digital Versions (editable)
• Student Work Log – Print and Digital Versions (editable)
Total Pages:  7
Teaching Duration:  3 weeks
See a preview of this product: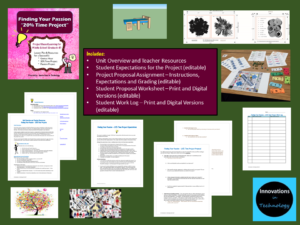 **************************************************************************
Connect with us for free technology tips, resources and curriculum:
Follow our blog
Follow us on Facebook