Description
This webquest / Internet scavenger hunt is a perfect one day activity for middle schoolers to learn more about Alan Turing and his inventions with these fun questions. It is appropriate for middle school social studies/history, science, math, or technology classes.
The lesson includes the student handout and an answer key, along with a short list of sites that teachers can provide to students to help with the quest if they choose. There are also some additional links to sites if teachers want to expand the lesson. Two versions of the WebQuest are included to let teachers print the questions or to provide them digitally as an interactive page in an editable Microsoft PowerPoint file.  Additionally, a word search puzzle with answer key is included, perfect for early finishers or to use as a part of the lesson.
This is a great lesson to leave with a sub too!
Files Included:
• Teacher & Student Resources
• WebQuest questions for students – print and digital versions (editable)
• WebQuest Answer Key (non-editable, .pdf)
* Word Search Puzzle with Answer Key
Total Pages:  8
Teaching Duration: 1 hour
See a preview: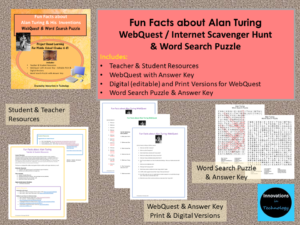 **************************************************************************
Connect with us for free technology tips, resources and curriculum:
Follow our blog
Follow us on Facebook