Description
This lesson focuses on the innovations and inventions that are borne from tragedy, specifically as it relates to 9/11. This is perfect for technology class or for use in a Social Studies or History classroom that wants to incorporate technology with a lesson for Patriot Day, September 11th.
Students work in pairs or small groups to create a presentation in Microsoft PowerPoint (or Google Slides) about some of the things that were invented because of the disaster that occurred on 9/11 after researching them. They use the information gained from their research to create a finished presentation that explains a few of the inventions inspired by that disaster and add their own opinions and insights to it.
The project was created for grades 7-8 but could easily be used with upper elementary or high school students.
Files Included with this Lesson
• Teacher & Student Notes and Resources
• Student Project Expectations and Grading Rubric
Total Pages:  4
Teaching Duration: 3 days
See a preview of this product: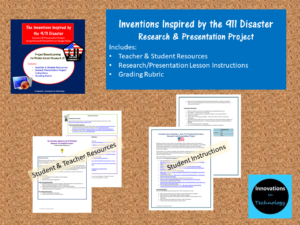 Related Products
Inventors & Inventions WebQuest / Internet Scavenger Hunt
The Impact of Inventions on Society
**************************************************************************
Connect with us for free technology tips, resources and curriculum:
Follow our blog
Follow us on Facebook
Follow us on Pinterest